| | |
| --- | --- |
| Looking for a log cabin to rent so you can go fishing? Watch Lake is one of the South Cariboo's top fishing lakes. See testimonials, photos, and fish stories on the Watch Lake page. | click to enlarge |
"Tidey's Up Top" is a cute little log cabin right on Watch Lake. The fishing is super and you're sure to hook some of the many stocked Rainbow Trout. Watch Lake is also a great swimming lake, too, as there is a speed restriction of 8 km/hr on the lake. Green Lake is right next door if you want to water ski, and there's lots of other activities and places to tour around the area. You can read more about this rental unit, and see lots of photos, on the Watch Lake page. A great area for all winter sports!


Organic weddings and special events, and workshops can be arranged at either location.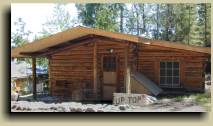 click to enlarge